10 Essential Questions Before You Buy a Handbag
May 25, 2011, POMPIDOO general topics
If you are a woman, you know what it actually takes - to find and choose a proper handbag! It takes ages of times and seas of patience and, yeah, sometimes also a half of the kingdom in financial terms...
To save your nerves and time and money, we've got to come up with a checklist of 10 essential questions you should be ready to answer before you buy the "It-bag" :)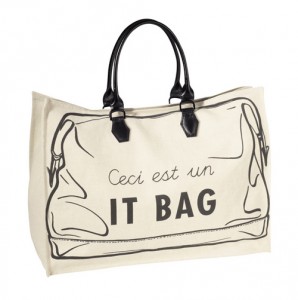 1. Does this bag match my personal style?

What is your passion? Cowboy boots and Gstar jeans? Lady-like dresses in Audrey Hepburn style? Wild experiments influenced by Lady Gaga? Or it's a pastel, which has won your heart a long time ago? Normally, you should be able to confess what is the central line you are following in your outfit. When you will be able to answer this, you will also understand, which bags to withdraw right from the beginning! And that's already 50% of success!
2. Does this bag match my existing wardrobe?
Quickly - while standing at the shelf or already at the counter - make a memory flashback: what is there in your wardrobe that goes perfectly with a bag you are holding in your hands? Shapes/colours/textures/size - all will matter on this battlefield!
3. Am I ready for this colour?
And here comes all combinations of this question: (1) if you are picking up another brown or black bag to add it to existing 5, ask yourself if you want to grow a black army! (2) if you are fiddling a juicy bright colours from the latest collection, ask yourself if you are ready - no really, it looks classy and cool, however, it might sometimes win over other colours and accessories that you wear. Just be brave for both! :)
4. Are we a good couple?
Try it on! Look in the mirror and be honest. Is this your shape? Does it go smoothly into your own body shape and supplement it successfully? Or just highlighting the natural flaws? Well, for example, if you are rather a something plus sized woman with curvy shapes, don't pick small clutches - go for big totes without abundance of studs, pockets and lockers: those will only make your shape stand out on the contrast of a tiny bag.
5. Am I honest about proportions?
This is mainly the question about your own height and the size of the bag: if you are tall and skinny or a miniature lady with nice curves, evaluate proportionally the size and shape of the bag vs your height. Will it hang on the shoulder? or you have to hold it in your hands only? does it have adjustable strap? again - is it enough only to hang it on the shoulder along the body or also to make a cross from the shoulder to the waste? Go for a good proportion, say no to a bag, which look disproportional compared to your height.
6. What will I actually be stuffing there on a daily basis?
That's a very good question! Now, it is rather simple for "specialty" bags - sport bags, shoes bags, picnic bags, hat bags, travel bags, professional camera bags - those, which will have one answer right away. But if you aim for a "multi-purpose" bag? What if you consider carrying baby stuff + computer? Or DSLR camera + cosmetic bag? Be clear on the purpose of this bag - it will spend some time with you every now and then.
7. Will I carry heavy items there?
Of course, each of us at least once had a situation when a bottle of milk would be stucked in newly-bought Furla...but that's exceptional! :D And we speak in general! So, are you a freak of having "100 and 1 trinket" with you just because "you might need it"? Think about the potential weight of all carried staff. I am sure, you know this from your experience with a previous bag - it will say the truth...
8. Will I use it during my travels?
Is it likely that you take it along? Is it spaceous and functional? Does it not only look nice but also can fit everything you need? Has many useful pockets and sections? Offers a special pocket for a mobile phone? What about camera?
9. Which events will this bag visit?
Will I carry it every day? at work? taking along for a party? Is it classy and fit a premium event? Or it's rather your daily companion on any occasion? Again, think of your previos bags - which have been your favorites?
10. And the last one: is there a reason buying it?
Is there any special reason why you actually considering buying a bag? Has the old one ended its service? does it look badly already as if it would be an old boot rather than a bag? Or just lack this particular colour? Or you want this bag because of following a specific need?
Resume:
It is not easy to pick up a perfect bag, however, we do it and do it very often! We believe, you will also celebrate another good finding!
It has never been easy to be a woman after all!
POMPIDOO Team
Show all posts