FOLLOWING THE IDEA
March 25, 2015, POMPIDOO general topics
When one of the biggest Latvian business newspapers invited us to do an interview and asked a lot of questions about the past, present and future, we suddenly realised that we're about to turn five years old!
Read the tastiest excerpts from an interview with POMPIDOO Founder Irina Kuzmina.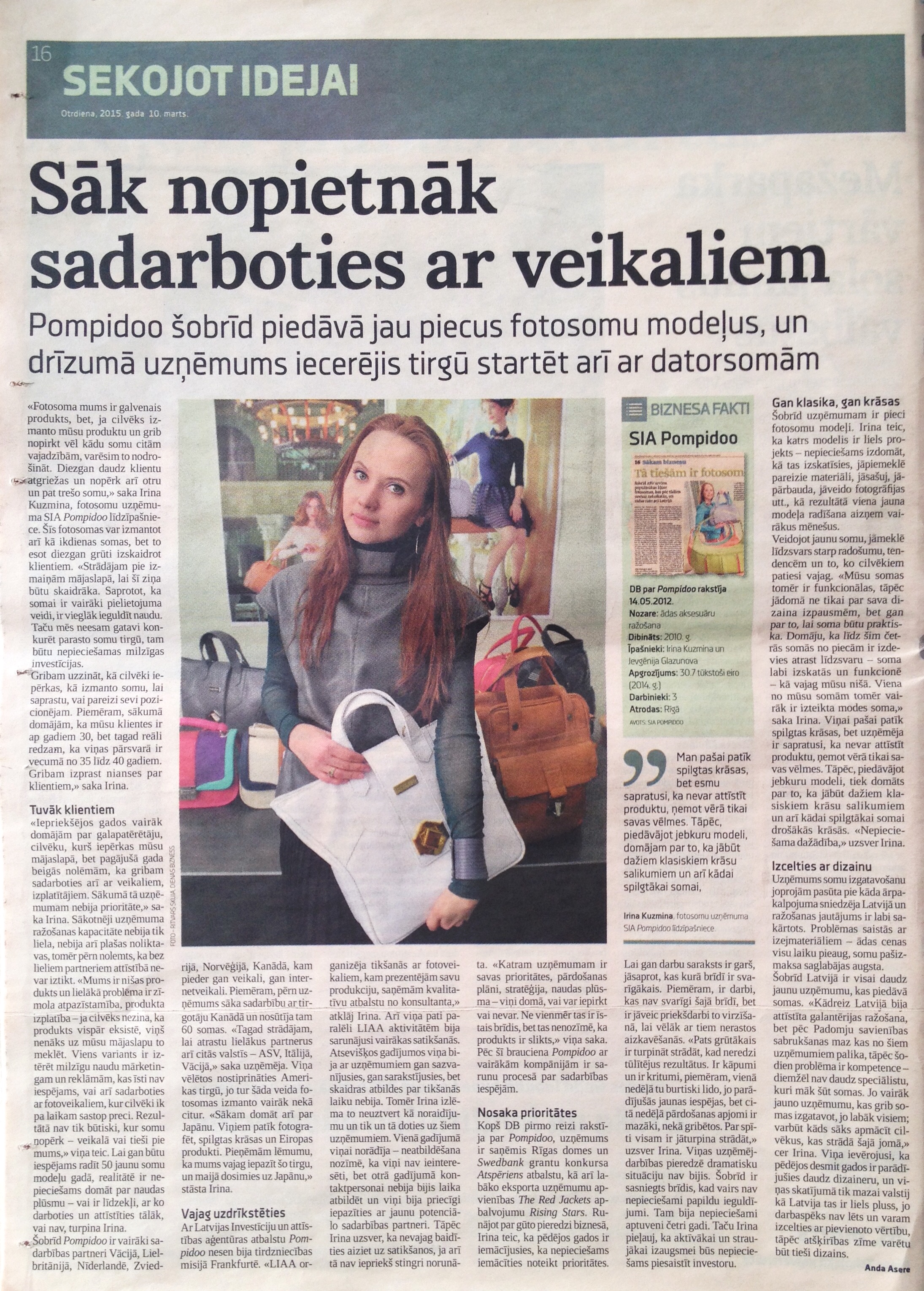 Camera bags are our main product. However, by now, we've gathered a lot of experience, which allows us to potentially enter other areas, such as laptop bags, travel bags or any other segment.
Closer to our customers
We used to sell directly to the end-customer until recently. However, stylish camera bags are still a niche product and so, in order to build awareness of the brand and category, we decided to expand into both online and physical stores. We have already established cooperation with partners in Germany, the UK, the Netherlands, Sweden, Norway and Canada. Of course, there is still a lot of work to do and our plans are to expand to the USA and Asia.
She who dares, wins
We get a lot of support from the Latvian Agency of Investment and Development. For instance, just a month ago we went on a trade mission to Frankfurt and met a lot of potential cooperation partners. Some companies confirmed meetings in advance, some we just met on spec. In one case, our product didn't fit the store concept or philosophy, but another company, although they didn't respond to our initial contact, was happy to learn about POMPIDOO. It just turned out that they forgot to answer. It simply means that sometimes you just need to push a little, and do what you have to do!
Set priorities
Since "
Dienas Bizness
" first interviewed POMPIDOO, we've received the Red Jackets Award for being one of the exporters with the highest potential and a rising star. As we grow, we're also learning a lot! And one of the most important things to learn for an entrepreneur is how to set priorities. The to-do list is extremely long as we're always trying to do more and do better! However, first things first - focus is the key to success.
Both classics and colours
Currently, there are five camera bag models in the POMPIDOO range. Each bag is a project in itself since there's a lot to do: create the design, find the right materials and colours, produce it, try it out, adjust something if necessary, prepare quality images of the final product, and so on. Typically, it takes months to launch a new model.
When developing a new design, it's important to find the balance between creativity, trends and people's needs. Since our bags must be functional, we can't get carried away with non-practical creative ideas or shapes.
The same is true for colours – although I prefer bright colours, I realise some people would rather go for something classic and everyday like grey, brown or black. And thus, the key is to have variety.
Stand out with design
A few decades ago, leather craftsmanship was quite well developed in Latvia. However, today it's quite a task to find young professionals who specialise in leather product manufacturing. We very much hope that this trend is going to change. A good sign though, is that we're spotting more and more talented designers in the area of personal accessories. This could help make Latvia quite a competitive country that offers very strong and visually appealing designs.
Stylishly yours,
The POMPIDOO Team
Show all posts