GUEST BLOGGER: WALKINGMAMA
May 12, 2011, POMPIDOO general topics
Finally! We keep our promises and happy to present you our
Guest Blogger – Walkingmama
with her amazing project "Sport and More for Moving Moms"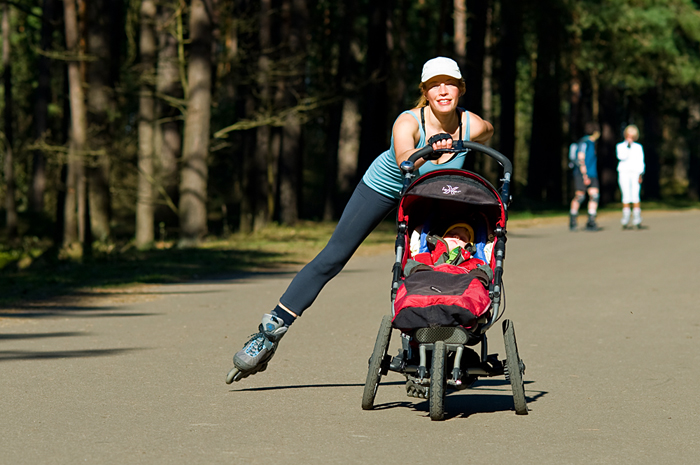 Who is Walkingmama? What is Walkingmama?
I'm a young mom of a 4 years old son. Two things I enjoy most being a mother: walking and discovering. I walked with a baby stroller every day during 3 years while he has been sleeping in his stroller – it also kept me in a good physical shape. He's grown up now and enjoys bicycles and scooter, so I still enjoy my walks together with him.
A child and walking changed my life. So much that I created a project called
Walkingmama
: it's about doing sport with a baby stroller. It's for young mothers who'd like to get to a great shape spending no time in a gym and not being separated from their children. I share my experience on walking for weight loss (power walking with a baby stroller), invisible fitness for moms, rollerblading pushing stroller, outdoor stuff for moms and kids and yoga walking.
My motto is: every woman has a right to get her body back after giving birth and be able to do it without spending any extra time or money, while staying together with her child. My e-book will be published very soon and this keeps me walking and working without breaks! :) You can take a look here:
www
.
walkingmama
.
net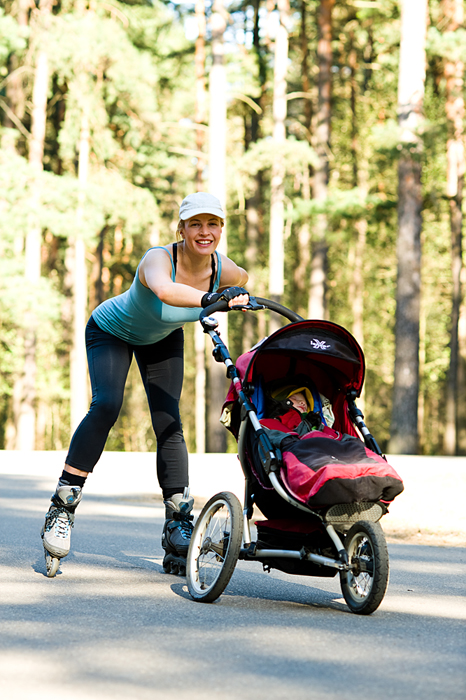 I spend most of my days on the go and outdoors: walking alone and with my son, staying with him in parks and playgrounds. Spending most of the day outdoors requires lots of stuff to take with. Usually I carry all that in the backpack or when I walked with the stroller, in a stroller's bag attached to the handle. Whenever I have to attend some event in the evening or have any meet ups in the city, I switch to more sophisticated look, sometimes even chic. Sporty style and a backpack is not an option for going out, right?
Let's be honest, I don't need it every day. But if I have an opportunity to leave a child with my husband not having enough time for change, I appreciate having a proper and stylish bag with me – it will contain all I need both for the day and for the evening. Moreover, I don't need to worry about matching my bag with my outfit – this stylish creation fits basically anything: dresses, trousers, blouses, heels, jeans, shirts, skirts, you name it! And yeah – have you ever tried to look stylish with 4 kilos of different stuff you have to have along??
With POMPIDOO camera bag – it's 2 in 1: a stylish classy bag with one you can easily turn on to the party or eve, and a full moms' ammunition filling inside: removable dividers, spacious inside, extremely functional pockets and very convenient handle/strap. No more mess inside – with dividers all things are in place and easily spotted.
The strap is long enough to hang comfortably at your side and it stays on. This is convenient for moms and I will tell you why: when you have your bag on your side and must lean to a child (which moms are doing hundred times a day) – it usually slips down and even might hit a little toddler's head… You must take it off the shoulder and put it on the ground. I prefer things that make my life easier. If a bag stays on the side even if I'm leaning to the child – it's wonderful convenience that I as a mom fully appreciate.
Most important: strap
allows you to hang the bag on the stroller's handle.
Voila – you have both arms free and no weight you must carry yourself!
I like that now I can take a proper camera with me: for taking qualitative pictures for my website and just nice shots of my child. It's always pity to lose those one-time moments that a good camera can catch.
I thank POMPIDOO Team for this great opportunity to try a
stylish camera bag
– I am convinced, it will be a hit of my wardrobe this summer!
Walkingmama
for
POMPIDOO
Show all posts