Mom's Day Wishlist by Walkingmama
May 10, 2012, POMPIDOO general topics
As the Mom's Day is getting closer and closer, we've asked our guest blogger
Walkingmama
to outline a couple of ideas - as a helping hand for everyone who's got lost in the array of offers and promotions :)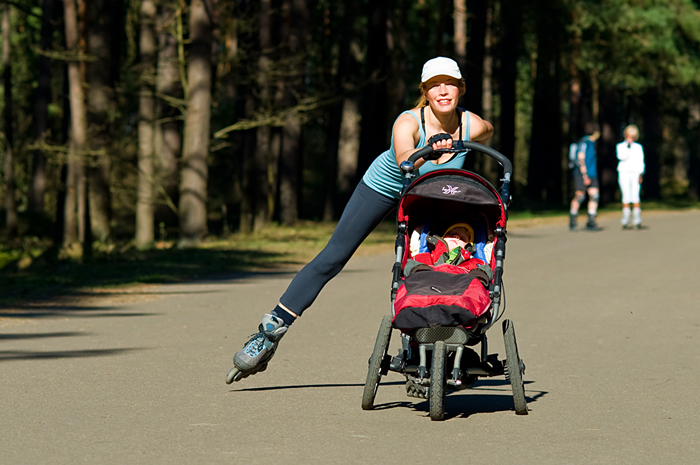 My sporty-outdoor life attitude actually made up this unconventional Mom's Wishlist. The things included I would highly recommend to have for all moms, regardless of their sports-addiction.
1. MSR Packtowel UltraLite
I simply admire this hi tech towel : it's my No. 1 for the summer time at the sea. It weights nothing and takes virtually no space in my bag. Dries in just a few minutes. Serves as a mat to lay down, a sun shade on the stroller's canopy, an
emergency blanket
for the child if it got chilly and yes, it's actually our beach towel as well.
2.
Planet Bike Stylish Gloves
Walking a lot with a baby stroller your hands are
always under attack
from either the sun, wind or rain. During my walking sessions or skating I wear simple fabric cycling gloves – these protect my hands and make a firmer grip of the stroller's handle bar. More than that, stylish cycling gloves gives me a sporty look that really drives me.
3.
iPod Nano New Generation
for listening to your favorite beats or latest podcasts. I always
turn off my mobile while having a daily walk with the stroller – as I consider this
is the time dedicated only for me and my workout.
It has been proved long ago that good music helps you keep workout load for a longer time.
NB!
Moms with the kids in a stroller should always use only one earphone for the safety reasons.
4.
Stanley Outdoor Vacuum Food Jar
well, perhaps least glamorous in the list, however, the most
practical one.
I always take food with me when going outdoors with the child. First of all, kids might get hungry just anywhere and anytime – I appreciate the convenience toserve them fresh and healthy homemade food just wherever I go. Thanks to this stuff I don't need to break my being 'out' day and rush for the nearest restaurant. Saved my days many, many times.
Love it!
5.
Luxury Hand Treatment






Hands again. I always have a good

hand cream in my bag.

Mom's hands get





constantly

wet-dry-wet

again and

need something really qualitative to be

applied many times a day.

For convenient and quick opening



I chose

the one with the click head.



Always with SPF.




6.
Stylish Wet Wipes Case






Wet napkins can be found in every mom's bag.

I like stylish and convenient cases - far better

than simple plastic packs.

Elegant attitude in even small things.




7.
Ultralight UV Portable Umbrella






"Personal Sun Shelter" UV Umbrellas block

99% of UV rays. Yes, it is waterproof too!

During hot summer days I'm making a sun

shelter for myself and my child

by putting an umbrella the roof of the

stroller's canopy and its handle bar –

making a generous sun shade enough

for both of us.




9.
Pompidoo Camera Bag






I highly appreciate having a functional and

stylish bag with me – it will store all I need both

for the day and for the evening. Have you ever

tried to look stylish with 10 lbs of stuff required

for the day with a child? With POMPIDOO bag –

it's 2 in 1: a stylish classy bag and a full

moms' ammunition. No more mess

inside – with dividers all things are

in place and easily spotted.




10.
Women Inline Skates






Just discover a new freedom when skating

with a baby stroller.

Absolutely great – skates is a new

breath into daily routine.

I go twice a week for my fitness skating sessions

and good skates inspire me to make an extra

couple of circles!




Enjoy and a happy Mother's Day!
Walkingmama and POMPIDOO Team
Show all posts