Riga Fashion Week 2011
May 28, 2011, POMPIDOO general topics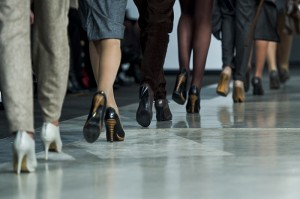 I always keep promises.
Even if it takes time to deliver them :)
And I definitely haven't forgotten about my promise to share fashion photo shooting and my impressions from Riga Fashion Week 2011!
For several years I have been participating in Riga Fashion Weeks as a make-up artist and have been attending the event for even longer time. During these years enormous amount of photos were taken, however, usually only few were retouched and shown to the public. This time I am proud of myself, as I have prepared the photos for both catwalks and backstage.
Frankly speaking, when shooting at RFW I put most of my efforts in capturing portraits, feelings and emotions, not just the shows. Trying to show the beauty of models, creativity of designers and great atmosphere of the event. Because a photograph is a document just as much as an article or an essay, and the images should be very concise and should clearly communicate an idea or an emotion.
Fashion photography has always fascinated me. Although one might think, catwalks are all the same, it is definitely a challenge and excitement of reaching the level when a photographer's personality comes through in the pictures. This is the essence.
Take a look at some of my works in a
POMPIDOO Gallery
.
Show all posts