THANKS TO EVERYONE IN 2011
December 28, 2011, POMPIDOO general topics
This year is rapidly climbing up the December calendar:
28, 29, 30, 31…
It will soon cross the line between 2011 and 2012 and to use this remaining time wisely, we would like to thank you for being with us during 365 days of joy, impatience, excitement, concern, enthusiasm, doubt, pride, difficulty, drive, pressure, creativity and satisfaction!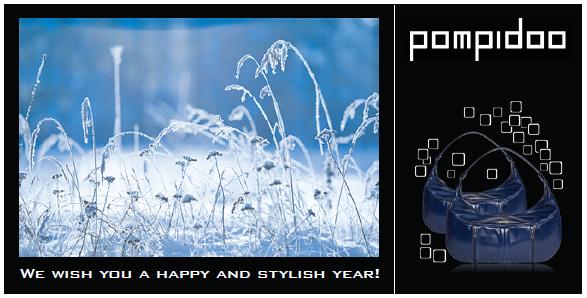 We would like to thank everyone who was in touch with POMPIDOO in 2011: our happy and stylish customers, our reliable and friendly partners, our supporting and active friends. POMPIDOO has been created for you and you all give us energy to move forward in 2012.
We would like to say a SPECIAL THANKS to
:
Pilgerbags
,
CosyCameras
,
Fotobag
,
Svetography
,
Makar Video
,
EuphoriaOK
,
Flair
,
GirlsGuide2Gear
,
Bizzieliving
,
Porter Novelli
,
WhatDigitalCamera
,
Fashion Socium
,
Everybody Be Cool
,
Walkingmama
,
L'Officiel
,
Pastaiga
,
HandbagDesigner101
, Annas Psiholoģija and all those people and companies we had a pleasure to work with in 2011.
We worked and learned a lot, we managed to build a very solid foundation for the year to come. Stay with us and we'll make even more functional things stylish!
Irina & Olga
And the POMPIDOO Team
Show all posts