Weekend Break: Observations
June 7, 2011, POMPIDOO general topics
Weekend breaks are really popular during the summer. It's such a great thing - to book a ticket and off we go! London, Paris, Berlin, Barcelona, Vienna, Rome - all waiting for us! And for our cameras too...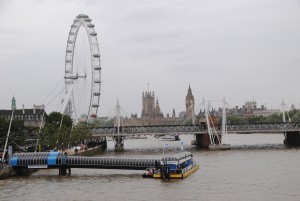 What do you need for a short weekend break? Only 5 steps:
- book a cheap ticket early in advance or use a last minute offer;
- find a nice and not expensive hotel not far from the centre;
- surprize your boyfriend/girlfriend/friend/sister/brother with these news;
- buy a ticket online to a theatre/opera/concert to make the most of your the break;
- pack your bag and DSLR camera!
I've spent this weekend in London. This busy cosmopolitan city reminds me of a hive - I especially like observing people in all the variety of ages, races and occupations! What
stylish experiments
they undertake! Unbelievable, how many unmatching things can be naturally combined together :) Various hats, eyeglasses, bags, chains and earrings - accessories are really playing a major role!
Just a quick look around and I found another
stylish accessory
- DSLR camera! Not only tourists, more amd more girls going for qualitative gear and do not hesitate carrying it around :)
Of course, I couldn't stop looking at their bags! :D Some of them would have an ugly photo bag (not matching their stylish outfit), some of them would have 2 bags (inconvenient, isn't it?), some of them would only have a usual handbag (harming a camera? no way!), one even carried a cotton bag!
They simply don't know about such
stylish camera bag
as POMPIDOO. Yet! :)
Show all posts