REPORTAGE: LINEAPELLE AND BOLOGNA
May 4, 2011, POMPIDOO general topics
We were extremely tired. And extremely satisfied with the achieved result! But let's come back to the beginning! Started in 1981, LINEAPELLE is the most important international exhibition dedicated to leather, accessories, components, synthetics and models for footwear, leather goods, garments and furniture. The exhibition took place in a wonderful city of Bologna, Italy and POMPIDOO Team was there: for business and not only..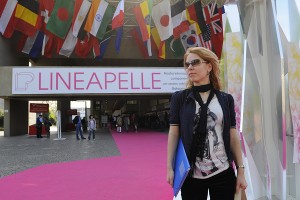 Dozens of enormous pavilions, hundreds of suppliers and thousands of various samples of leather, accessories and components, textiles and synthetics - we were hungry for all of this, at the same time trying to be very selective as we want our stylish customers to get the best only!
The choice of supplied materials was limitless as if it was a cave of an Asian jinn:
- over-structured and sophisticated accessories - zippers and fasteners - sometimes we only wondered how does it function :)
- "every woman's dream"- constructor for shoes' production - looks amazing!
- and finally, all kinds of materials we even cannot think of: genuine leather and creative synthetic materials, shiny and matted, pearly and braided, with different processing and elements, with prints and effects, "animal-like" and "nothing-similar-to-like" samples, with smallest and finest holes and pressings, monochrome and mixed, in pastel and amazingly-bright colours...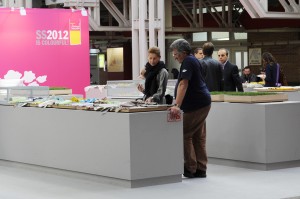 All trade shows always resemble hives: busy bees are passing to and fro, smiley Italians, business-oriented Germans, excited Spaniards, mixture of languages and gestures. This is a truly great feeling - to be in the same place with other industry professionals and famous designers who are picking up samples and defining the next trends...More than that, we seemed to be one of the youngest teams taking part :)
And needless to say - Bologna is a wonderful city! It is a city owned by ancient buildings and young students, lively conversations and marvellous Italian cuisine, countless number of bicycles and scooters! Be cautious and look around - you can be easily knocked down by a nice lady on her red bicycle with a basket...
We were extremely tired after 3 days from 9am to 5pm, our travel bags carried 12 kg of various samples!! However, we are fully equipped for a new model now. It's high time to sort all brought samples, analyse and choose several new partners, material colours and textures, which won't leave you insensitive!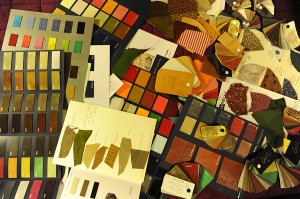 Show all posts