STYLISH EXPERIMENTS
April 4, 2011, POMPIDOO camera bags
I like to be original. When choosing my outfit, I love to mix styles, colors and shapes. I never stop experimenting. Whenever a trendy piece of clothes arrives on the market, I can boldly say: I will try it! Needless to say, it must fit to my shape and mood as well. During one of style lectures I heard that we dress the Soul, not the Body, and I completely agree.
As every normal woman, I am all about shoes and bags – these two items (or rather two armies of these items) are never enough :)
I tend to keep an eye on the latest trends. Have you already seen spring 2011 trends for bags on www.style.com? Even if you don't think you can afford this gorgeous green tote from Anya Hindmarch or tender creation from Alexander Wang,
you'll know these models of bags are "hot" this season.
However, back to my stylish experiments! At one moment of time I understood that when going for an evening out or party, my camera is competing with my desire to look good. Why should I look like a photographer or tourist carrying my gear around? I had to choose – either I sacrifice my outlook with an ugly camera bag, or I leave my DSLR at home…Hard choice, I must say!
I tried to experiment – like this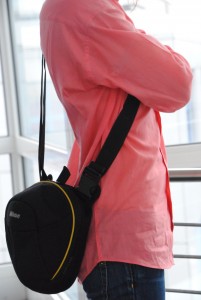 And like this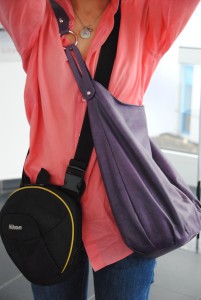 And even doing so - putting a bag in a bag.
And even extrem - by putting the camera just inside my everyday bag. This harms, however, the bag very much, handles and bottom of the bag are continuously streched and damaged. Not even mentioning how dangerous it is for the camera...
Terrible! I was desperate to find the solution, which will be a suitable compromise in this fight.
I had no other choice as to invent
POMPIDOO camera bag
– as stylish as it is functional :)
And what is your story? How do you deal with "either style or camera" dilemma?
Show all posts